Just because you're not at a Disney Park doesn't mean that you shouldn't be allowed to have a Disney Experience! The good folks that run the DisneyParks YouTube Channel must agree, because they posted something last week that lets those of us who are not physically in the Parks share in the Celebration!
Isn't that amazing?! Come on- admit it; you teared up a little at the end too! 😀
Curious about how they did it? Well, it turns out that a lot of us were, so they actually did a Q&A with the man behind the magic, David Roark, on the DisneyParks Blog!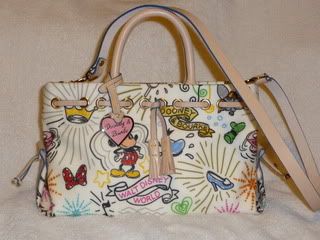 Oh, and have you been wracking your brain, searching for that perfect gift for the Disney loving, purse carrying, special someone in your life? Well- these new Dooney & Bourke bags with a Disney theme may be just the thing you've been looking for! Apparently, these suckers are hard to get in stores, but some people have had luck by calling the Disney Merchandise number at 1-407-363-6200.
If you'd like more information, you can read this blog post by the Bostonista or this thread on the DISBoards.
**Planning a family trip to the Anaheim Resort? The Howard Johnson Hotel in Anaheim would love to be your homebase for adventure! Join us on our HoJo Innsider Forums for video tours, special discount rates and expert trip planning advice! **
Comments
comments